Kolkata, or Calcutta is one of India's most prominent and most populous cities. Being a huge metropolis in the world's second most populous nation, Kolkata faces a lot of challenges particularly in the transportation sector. Various infrastructures are truly needed for the city to meet the needs of its populace when it comes to efficient transportation options.
Metro systems are essential for city dwellers in the 21st century. They are fast, efficient, and most are very reliable.
This article presents you 10 interesting and fun facts about the Kolkata Metro. If you are a native of Kolkata, how many of these do you already know?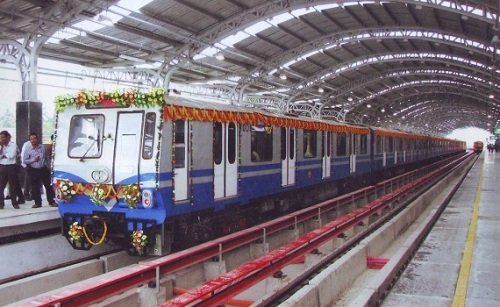 10. It is India's first Metro system
People who live in Kolkata take pride in the fact that their Metro system is the first in the whole of India. Opened in 1984, the Kolkata Metro Railways launched its operations under the management of Kolkata Metro Rail Corporation and operated through the Ministry of Railways. Being the first of its kind in India and in the entire South Asia, the metro system is proudly called "India's First, Kolkata's Pride."
9. The Kolkata Metro was a multinational project
The Metro system was conceived several decades back – the sixties to be exact – to address the growing problem of traffic congestion and lack of efficient transportation options in Kolkata. When the conception of the project was in its initial phase, a team of French experts were invited by the government of India to help in the planning. Later on, Soviet specialists and East German engineers pitched in as the master plan was finalized. The project then went on to construction mode in 1972 and became fully operational twelve years after.
8. Advanced technology was used in the construction of the Kolkata Metro
The north to south construction of the Kolkata Metro utilized advanced technology known to be cutting-edge during those days. These include shield tunnelling using compressed air and airlocks, the use of VHF radio communications system, automatic ticketing and vending systems, third rail current collection system for traction, underground substations with tdy-type transformers and SF circuit breakers, cut-and-cover method of construction using diaphragm walls and sheet piles, among many other advanced civil engineering methods.
7. A major expansion of the metro system was initiated in 2010
A lot of things have changed in Kolkata since the metro system opened in 1984. In 2010, the government announced a major expansion project of the Kolkata Metro with five new metro lines and a long extension of the north to south corridor. Major modifications were made to ensure that the metro remains efficient and highly reliable more than twenty years after it initially opened.
6. The Kolkata Metro is India's highest Metro station
Line 2 of the Kolkata Metro will have an extension from its current Central park station all the way to the airport. A new station which is going to rise from Haldiram Crossing on VIP Road will be constructed with a height of 25 meters – the highest of its kind in the whole of India.
5. The Kolkata Metro will have more than 100 stations upon completion of all 6 lines
The Kolkata Metro will extensively run across Kolkata and its major suburbs by the time all six lines become fully operational. Lines 1 and 6 will have the most stations – with 29 and 24, respectively.
4. The current metro system has most of its stations underground.
The Kolkata Metro, as of the present, has 24 fully functional stations – 15 of these are underground, 7 are elevated, and 2 are at-grade.
3. Tokens replaced the use of a magnetic ticketing system in 2011
The Kolata Metro system used magnetic ticketing cards in 1984 until 2011. It was then promptly replaced with radio frequency identification tokens (RFID) in 2011, which proved to be more efficient and less costly.
2. The Kolkata Metro now uses a Smart Card in its ticketing service
Aside from RFID tokens, Smart cards are now being used by the metro system's commuters as these have multi-ride systems and storage capabilities.
1. The Kolkata Metro has greatly helped ease traffic jam
Kolkatans love their metro system as it provides them with a more efficient option to go from one place to another. It also saves them plenty of time – which can never be replaced.