10 Most Beautiful & Amazing Office Buildings in India
Beautiful Buildings makes the city look more beautiful. It takes a lot to create such wonders, which are just pleasing to the eyes. There are various skyscrapers in the country, and various beautiful buildings but only a few can make it to the list with their astonishing and amazing architecture. If you see these buildings you face will form a shape of an O, and you will just wonder, how? How can someone possibly design something like this? These buildings are beautiful and are extraordinarily pleasing to the eyes. There are various buildings in the country that are really beautiful and are worth seeing. Those who work in these buildings have a good time, if not while working but at least by the fact that they can step out of the buildings and admire them, because they are actually very beautiful. Mentioned below are the top ten most beautiful and best office buildings in India.
10. Shree Cement, Jaipur
Located in the city of Pink city, this building is extremely beautiful and is very pleasant to the eyes. Shree Cements had LED office, which is just mind blowing. It is one of the most beautiful offices building in the country and it is called as '72 Screen Building'. It looks ravishing at the night.
9. Patni Knowledge Park, Mumbai
Located in Mumbai, which has numerous beautiful buildings, Patni Knowledge Park stands out amongst the rest. It is one of the largest IT parks in the city and has a unique design and an amazing architecture.
8. I-Flex Solutions, Bangalore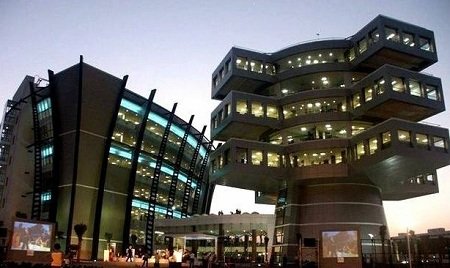 With the reflection on the lake nearby, this IT park in Bangalore, is one of the most beautiful building in the country. With more than 1500 employees, this IT park is spread over 1,44,000 sq. ft. It has an amazing architecture and the building has blocks, which are shaped like a petal.
7. IT Park Chandigarh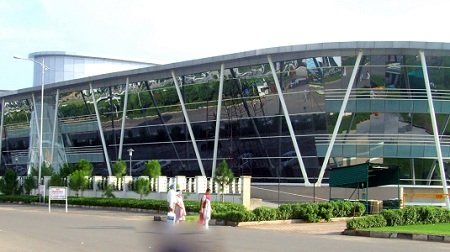 This building is shaped like a huge ship, and is one of the most beautiful buildings in the country. It is an add on to the beautiful city, and it impresses the viewers with its amazing architecture.
6. Statesman House, New Delhi
New Delhi has lot of beautiful buildings, but there are only few, which are extremely beautiful and astonishing. The statesman house is one of the highest buildings in the Connaught Place, and is shaped like a hollow cylinder, which is cut diagonally from above. It has an amazing architecture and is extremely pleasing to the eyes.
5. Tata Consultancy Services, Siruseri
Located in South Eastern Suburbs of Chennai, this amazing building is shaped like a butterfly. The architecture is just superb and is one of the best and the most beautiful buildings in the country, and not just that it is has around 30 thousand employees, 2000 cars and is spread over 70 acres of the land and is one of the largest IT park in Asia.
Read Also: 10 Interesting Things About Tata Consultancy Services (TCS)
4. Adobe Headquarters, Noida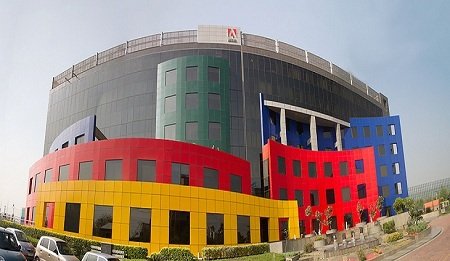 Made with some abstract architecture, this Adobe building in Noida is very attractive and colorful. It is one of the most beautiful office building in the country and the colorful blocks are just eye catching.
3. National Fisheries Development Board, Hyderabad
As the name suggests, the company, it is a national fishery board and is constructed in a huge fish with four floors. It is an extraordinarily beautiful building and is undoubtedly one of the best in the country.
2. Cybertecture Egg, Mumbai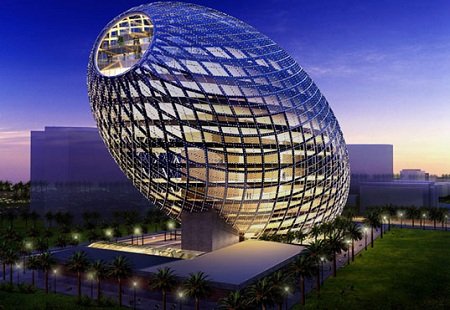 This is a surreal building, and can only be imagined in the dreams. This is one of the most astonishing buildings of the country and is located in Mumbai. It has various office space and also underground parking for 400 cars.
1. Infosys, Mysore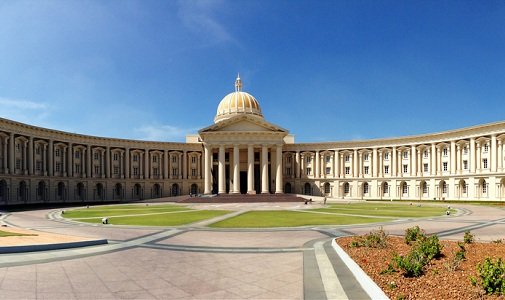 The place looks like a replica of the white house, but it is not. It looks like a royal heritage and people who work their calls it a marvel. It is designed in such a manner that when you see it from the top, the buildings spell Infosys. It is just marvelous and an outstanding piece of art and architecture.
Read Also: 10 Interesting Things About Infosys Limited